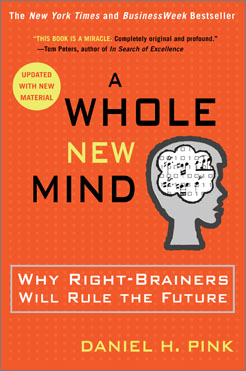 OK,
This is another assignment.  Or at least an adjunct to an assignment.  Library 204 is Library Management.  One of the reasons that I picked the section that I have is that two of the required texts are by Daniel Pink.  They are A Whole New Mind and Drive.  I am a Dan Pink fan and have read both of these books prior to signing up for the course.  I knew it would help to have half the reading done before the course starts, but more importantly, I like what Pink has to say, especially in Drive, and thought that any prof who assigns these books, must, at least in part, parallel my views on the way the world works.
One of our assignments to do with A Whole New Mind is to pick an activity in one of the six sense chapters and use the activity to explore the sense.  I should tell you that Pink is not talking about taste and touch, he is talking about design, play, symphony, empathy, story and meaning.  Now, it is not my intent in this blog post to describe these senses to you.  I strongly encourage you to buy the book or borrow it from your local library and read it yourself.  He's much better at explaining it all than I.  If you know me and have read the book, I think that you would agree that I identify strongly with symphony, play and perhaps empathy.  The sense I identify least with is design.
To be honest, I wasn't sure why design was even included, so I decided to explore further in an effort to figure it out.  The activity I chose was to simply identify objects around me, look at them, feel them and think about them from a design perspective.  Questions to be answered involved how I reacted to them using the traditional five senses and what emotional reaction I have to these objects based on my sensory experience.  How does my emotional connection with an object effect how I see it and potentially use it?  Below are my notes on my interaction with four objects in my house:
Marvin the Martian Doll
I have a small, felt doll representing Marvin the Martian.  He's 13 1/2 cm from head to toe and is dressed in his usual red uniform with green centurion helmut and skirt.  All you can see are his big white eyes peeking out from under the helmut.
Marvin and I have a history.  He has accompanied me on just about every nerve wracking concert I have ever performed.  Any time I feel under-prepared, he comes on stage with me.  His design has practical advantages.  He is small enough not to be seen by audience members, but the person next to me on stage will certainly know that he is there.  He is soft.  I can cram him into any bag and he won't set off airport security and he will fit between drum sticks, scores or conducting batons, equally well.  If he happens to fall on the floor during a quite moment in the music, he won't make a sound.  I wouldn't say that there are any sensual responses I have to him. He feels soft but he has a hard personality.  He doesn't really smell like much.  I just smelled him for the first time, so I know.  He doesn't make a sound.  What I don't know is how he tastes.  But I'm pretty sure that it isn't important.  His sensual appeal is all visual.  When I look deep into his eyes, I know that everything will be all right.  He puts the universe in perspective.  We can handle anything and anything we can't, we can blow up.
Conducting Baton
I have a number of batons.  Probably too many.  But I do have a favourite (or maybe I a favourite make and model).  What is important about my baton is that it feels like a part of me when I conduct.  It balances perfectly, it fits in my hand naturally.  I was told once that the ideal baton is one that when held in your hand and pointed bak up your forearm, it just reaches the inside of your elbow.  Mine does.  I have a couple of versions of the same version.  The difference is only in colour and is more for the musicians in front of me than for me.  My white shafted baton works well against dark backgrounds.  It sounds out and can be seen by the musicians who I'm communicating with.  It is excellent for performances (black tuxedo jacket, dark concert hall).  I also have a stained wood shaft that is better when conducting against a white wall as in a rehearsal.  The design of the baton is everything.  It is the feel of the baton in my hand that makes it feel that it is part of me and makes communication with it feel natural.
The dining room table
I recently took custodianship of my grandparents dining room table.  My brother, who got it when our Papa passed away, now lives in Shanghai and is not about to move a solid, heavy piece of wood to China.  This piece is solid.  It is not a low end Ikea piece of laminated piece of particle board as some of it's predecessors were.  It is solid dark mahogany.  It is held together with a metal lever and help up with two carved pedestal legs with brass caps on each of the six toes.  I don't know furniture, but this table feels like good quality craftsmanship and reminds me of my Papa.  He was banker who moved here from England when he was a boy.  The table stands next to the china hutch that holds some of my Nana's old china.  They are a great pair together.
The feel of the smooth wood and the solid construction certainly are the parts of the design element.  The brass hardware against the dark mahogany do give off a sense of perceived wealth (or at least comfort).  They look like pieces that have been handed down through the generations and a have a look of history and family history.
Rdio
Rdio is an internet-based radio application with significant social networking functionality.  It is a service that I subscribe to so that I can listen to the music that I want at work and so that I can explore recordings that I have not yet purchased.  The interface is boxy and essentially blacks, greys and whites.  The top menu bar is the transport window that gives you the play, pause, volume, forward and reverse functions.  It also tells you what you are listening to and gives you access to the full playlist and a search window.
The next bar down is your page navigation tool bar.  You can jump back to home or go forward or back in the pages that you have been navigating plus get access to explore music in four different ways.  In case you forget who you are, your name appears at the right end of this bar.  Below this is the main browser window.  Your home page tells you your name (yes, again), gives you the most listened to music in your network of friends and gives you activity updates of your network.  You can also get crucial information about yourself and your network, such as how many songs you have in your collection, how many friends you have, what your top ten and what your network's top ten are.  You can also find out where you live and, yes, what your name is.
There are a number of different ways of exploring music through the interface using such buttons as Collections, Playlists, Reviews, People, New Releases, and Recommendations.  Some of the navigation is intuitive, but it can be easy to get lost in a long list of connected references from one track to the next.  It is easy to search through the search bar and most of the albums and tracks have some written information to tell you what or who you are listening to.
In terms of design, the interface is not colourful but it does allow for the infinite colour combinations one will see on album artwork as one is exploring the databases.  The layout and functionality of the interface is fairly simple and the terminology is fairly logical, although I'm still not 100% sure how my "collection" is generated.  But then again, I haven't looked it up in the help files.  Interesting to note that all of the help files exist on an external web site, not within the application itself.
The sensory elements that are important are primarily visual and I have commented on the layout of the page and the colour.  The sound is actually not important to the design, because the sound is dependent, in part on the network speed and in part on the quality of the speakers that the user is using.  I assume that the files are compressed (not CD quality), but given that one is listening to Rdio primarily on a computer or smartphone, the user is unlikely to be expecting the optimal sound quality.
At the end of the experience, I have reflected on the overall effect of design and how I can use design in my professional life.  I know that in my school library space, there is a certain feel that is articulated simply by the layout of the room, the types of furniture in it, the lighting and even the artwork on the walls.  These elements tell the visitor what the room is about in term of use, mood, expected behaviour and many other things.  I'm not going to say that I know what all of those message are as of yet, but I will say that, as I return to school next week, one of the things that I will be looking for are the hidden messages that we are giving our students and faculty and ways of manipulating the design of the space to ensure that the emotional and functional connection with the space lines up with my intentions.