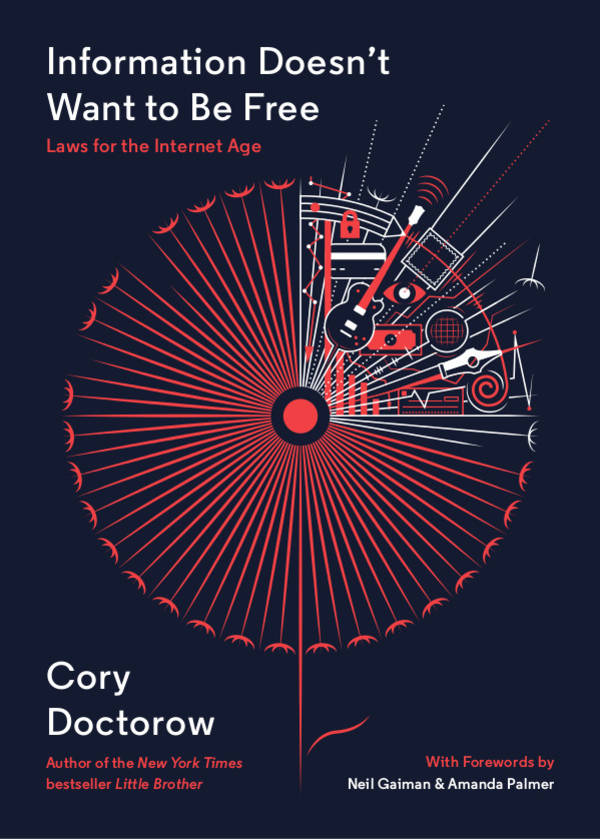 OK, I'm a big Doctorow fan so I would likely be partial to his latest non-fiction offering anyway, but Information Doesn't Want to Be Free is an outstanding, thought-provoking book on copyright, freedom, and the creative industries.  It is subtitled, Laws for the Internet Age, and would seem, at face value, to be a prescriptive, how-to guide for creative folks wanting to make a living in the current world.  In some ways it is.  Doctorow gives some great straight-forward advice to young artists such as, "Don't give up your day job."  But, as he says in his epilogue, this book is more about evaluating the increasingly networked world that we live in in order to work appropriately to create, promote and distribute your creations.
Many of his discussions are not new to those that follow Doctorow.  The dandelion analogy figures prominently in the book.  This is where he compare a mammal's approach to investing in and protecting a single creation (child) with a dandelion's approach to spreading so many seeds across a large enough area that a certain percentage will find root, to our current distribution model of spreading our creations amongst the population.  His stance that today is the hardest day that it will ever be to copy anything so we might as well deal with copying in a productive way shows up in lots of other places.  But what he does in this book is takes the reader through a carefully constructed narrative developing an argument for a more open world in terms of copyright.
He begins by pointing out that digital locks are typically only there for an intermediary's benefit.  Digital locks don't help the creator of a work much nor do they do anything for the audience.  Digital locks are put on and regulated by folks in the middle who are concerned with making as much money as possible from a limited number of copies of someone else's work.  His second point (law) revolves around the fact that if you aren't known by an audience, it doesn't matter how well you protect your works, nobody is paying you for your work.  If your work spreads freely across the Internet, there will be a certain percentage of people who will want to contribute to your ability to create more.  Finally, he looks at the history of copyright legislation and offers some ideas as to what might be more appropriate in terms of protecting copyright than what is currently being pushed, primarily, by the entertainment industry.
I'm sure that there will be some who will poke holes in the nitty-gritty of his arguments.  I'm not well read enough in the area to get to that level, but I do appreciate his balanced stance.  Doctorow is not proposing anarchy.  He's not putting his hands up and saying "well hell, it's too easy to copy so let's just take whatever we want."  Nor is he proposing solutions to overly regulate the copying of others' work.  But he is taking a stance that recognizes the downside to either of these extremes and has some great ideas about how we might approach the idea that people copy for different reasons and that there are different ways of thinking about distribution of works and methods of making a living from those works that we might consider as technology continues it's unabated advance.
I would, and have, recommended this book to anyone who is interested in thinking about copyright, networked technology, the creative industries and intellectual property.  The curious thing about this book is that you have to purchase it to read it.  For those who know Doctorow's practice of freely publishing his work digitally in conjunction with the commercial printing of his books, this book is conspicuously absent in a free, digital form.  I don't know if that is simply because it hasn't been released yet or if his practices are changing for whatever reason.  That being said, Information Doesn't Want to Be Free is well worth the monetary and time investment, regardless of what the intermediaries have set the price at.